At least two people have been killed by Typhoon Mangkhut, known locally as Ompong, which slammed into the Philippines in the early hours of Saturday, bringing ferocious gale-force winds and pounding rains.
Both victims were women, killed when a rain-drenched hillside collapsed on them, according to the French news agency AFP.
Mangkhut is the strongest storm anywhere on the planet in 2018 so far, carrying gusts of up to 325 kilometers per hour (200 mph) before it made landfall in Cagayan province, on the northern tip of Luzon, at about 1:40 a.m. local time.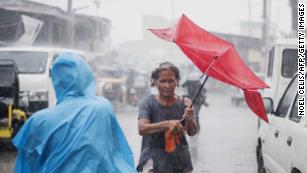 A woman in the Phillipines holds her umbrella during heavy rains caused by Typhoon Mangkhut
When it crossed land, Mangkhut was packing winds of up to 270 kph (165 mph), 120 kph (75 mph) stronger than Hurricane Florence that hit North Carolina, and aid agencies warn millions are at risk from rising flood waters and landslides.
Although the death toll is likely to increase, there was some relief in the Philippines that the damage was not as bad as it could have been.
"Honestly, we were expecting the worst from this," Edgar Posadas, a spokesperson for the National Disaster Risk and Reduction Management Council (NDRRMC) told CNN.
"I was praying and hoping and worried about having so much casualties. But I think after Yolanda, after Haiyan [the international name for Yolanda], there were a lot of lessons that were learned in terms of preparedness, early warnings, preemptive evacuations… and this went a long way."
                                                                           Crdt : CNN